About our Innovative Hunting Bows
Gearhead Archery began developing unique and radically innovative bows in 2008. Some of our early designs included bows with no crossover cables, power from springs and cam timing from gears. In fact, it was the timing gears on that bow, that gave Gearhead Archery its name.
Without innovation, you quickly become a business of "me too" products with the price as the only thing left on which to compete. Gearhead Archery delivers fresh ideas on developing better archery products through superior engineering and higher quality materials.
In the early years, the goal was to create working proto-type bows and pitch the technology to other companies. The hope was to either sell the patents or set up a royalty stream of the products sold. Gearhead Archery has been successful in selling patents and their influence can be seen throughout the archery industry.
Gearhead Archery's foundation is built upon engineering robotic equipment required to operate flawlessly, 3 shifts, 365 days a year. The precise structures of this equipment makes up the backbone that gives the Gearhead Archery bow riser its strength. Gearhead Archery started their journey into the archery market with a bold new design in 2015. The T18 was the first model for Gearhead Archery's new bow technology, implementing side plates with standoffs, to create a shoot through riser design. The compression strength, the accuracy and the stress-free design of this riser structure is superior to any bow riser on the market, period!
The current Gearhead lineup is the most complete offering in archery. With the addition of Disrupter, Gearhead Archery is certain to disrupt the industry. The T Series is a non-adjustable bow built exactly to the archers specifications. The B Series is the most adjustable bow on the planet. The Disrupter has a silky smooth draw cycle of the T Series and the draw weight adjustment limb pocket of the B Series. Couple that with a slider grip option and the Disrupter has the performance of the industries best bows at fraction of the price. All these bows still convert from right to left hand or vice versa. This website will help explain the different models so you can choose the best bow fit for you.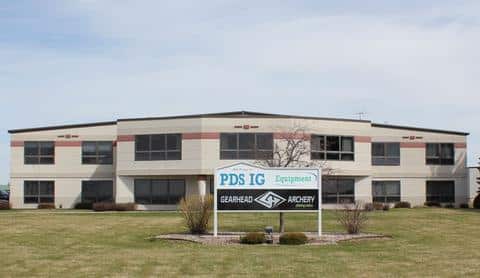 At Gearhead Archery, thinking outside the box is just what we do. What if anything was possible? What if failure was never an option? What would you do? What would you make? Change your mind and you can change the world!
The Gearhead team is made up of hunters. Many of us have worked together for more than 20 years. We have an attitude that anything is possible, we are hard working and proud to be made in America.
Gearhead Archery
Welcome to our family.
Gearhead Archery's cams are licensed under US Patent number 7,997,259 and 6,990,970. Gearhead Archery has 7 patents that have been issued and a number of patents pending.
Gearhead Patents; 9,354,016 / 9,140,513 / D774154 / 9,599,428 / 9,658,024 / 10,139,190 / 10,240,890