In the final shoot of 2018 ASA Season, there were cheers and tears as Austin Jones clinched the championship in the crossbow class. Never before in ASA history was there so much emotion and camaraderie as Austin's competitors hoisted his motorized wheelchair onto the podium so he could be honored for his incredible accomplishment.
Austin came into this competition more focused than ever and sporting a #charliestrong marker message on his forearm in honor of his friend he lost weeks earlier.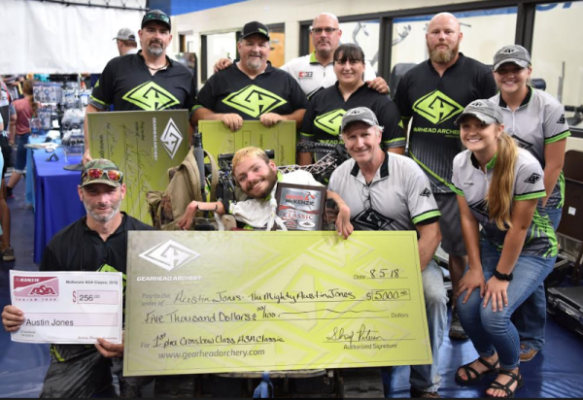 After the first day of shooting, Austin was in the lead at 26 up! When the dust settled on day 2, Austin and trigger dad; Jason Jones finished at 16 up. This gave Austin 42 up for the weekend and after all the scores were tallied, there wasn't a dry eye on the range as Austin was announced the champion crossbow shooter of the ASA Classic!
Austin shoots the Gearhead X16 that he nicknamed "Miss America". He started shooting Gearhead last year after the London Kentucky shoot. "I am so proud of Austin and Jason on their accomplishments. They prove anything is possible with dedication, hard work, and the ability to adapt to the challenges that life throws at you. I am so happy they chose Gearhead and are part of the Gearhead Family" said Skip Peterson, Director of Operations.
Read the full article in the Archery Wire.